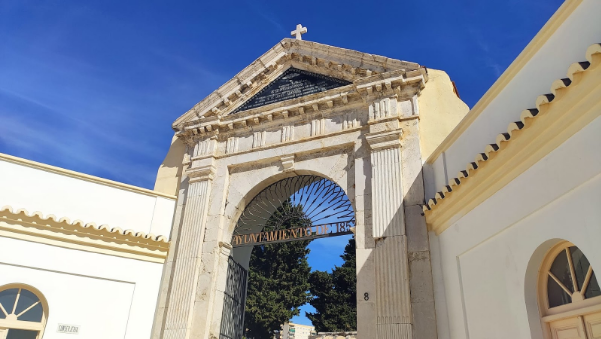 23 Oct

iloftmalaga – San Miguel Cemetery

THE SAN MIGUEL CEMETERY AND ITS SOULS

Dark tourism is something that is increasingly in fashion, and in Malaga we have the perfect place to start it, whether you want to take advantage of Halloween night, or if you are a fan of this movement.

We are talking about the historical cemetery of San Miguel, one of the main historical-monumental cemetery in Spain, perfectly preserved since the early 19th century and, of course, full of enigmatic ghost anecdotes.

One of the most popular is the story of the American writer Jane Bowls, an intellectual, wealthy and tubercular woman. They recommend moving to Malaga, which with a warm climate, a sea breeze and a friendly environment, was more likely to recover. However, although she spent the end of her life in the city, her fondness for alcohol did not help her fight against the disease and she died in May 1973. Buried in the San Miguel cemetery, her friends and admirers bring her gifts in the anniversary of his death where, almost every year, some of them claim to have seen a woman dressed in black, who looks at the pantheon away from the group and who simply disappears.

What can we say? Perhaps the writer is known from another legend of the cemetery: Carolina, or the "corpse bride", as she is often known. They have much in common, as this was a bride planted on the altar who died in 1928, precisely also from tuberculosis, although many speak that the cause of death was "love sickness." Some of the cemetery security guards claim to have seen her dressed as a bride, strolling freely through the corners of San Miguel. It is also said that Carolina took revenge on the one who was to be her husband, since he died a week later than her in a car accident.

On the other hand, to the witnesses who saw the women in black and white we can add those who claim to have seen an old man dressed in monastic habits, whose description coincides with Don Elíseo, a parish priest in charge of the cemetery chapel, who died in early 1946.

And, if things weren't already macabre enough, we have two stories of child deaths: Antoñito, a two-year-old infant defeated by Leukemia, whose seers describe as a spectrum of light that runs and plays through the streets of the cemetery ; and María Marta, a girl who died in a traffic accident. It is said that María Marta is capable of curing relationship problems, so many lovers will bring her letters telling her about their problems, so that she can help them solve them.

Whether you believe in ghosts or not, the San Miguel cemetery is a place full of charm, history and artistic culture in Malaga, whose visit is well deserved if you spend a few days in the city. You may want to take advantage and visit it in the month of witches and pumpkins, but if you prefer to do it at any other time, the San Miguel cemetery is free.