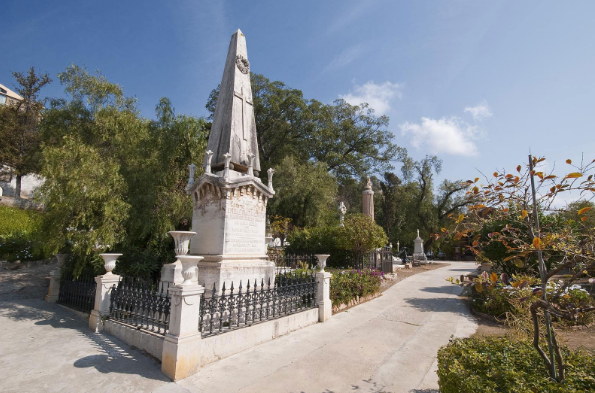 08 Jul

iloftmalaga – The English Cemetery's secrets

Almost unnoticed at Paseo de Reding, flooded with vegetation and with an appearance of complete peace, the English Cemetery is one of the 'hidden' jewels of our city's heritage.

Before its construction, the darkness granted by the night was the right moment when the Protestant foreigners descended on the shores of the Malaga beaches to bury their deceased relatives. They did it on little crowded beaches and on continuous alert so as not to be discovered by the city's security forces. In 1831 everything changed with the construction of the St. George's Cemetery or English Cemetery. The new Malaga necropolis became the first Protestant cemetery in the country, and it was William Mark, British Consul, in charge of obtaining the necessary permits for the construction of a graveyard to house the bodies of his Protestant compatriots who could not, due to religious conviction , to be buried in the city.

The first to receive dubious burial honors at the English Cemetery was Robert Boyd, an Irish soldier who had joined (and financed) the liberal revolution that General Torrijos had started after the end of Ferdinand VII's reign. And it was not until several years later when, after a storm off the coast of Malaga, the German frigate Gneisenau wrecked, leaving 41 victims, that the people of Malaga were in charge of taking to shore and burying in the place we are dealing with today. It should be noted, as a curiosity at this point, that due to these two events, the city respectively won the titles of "The first in danger of freedom" and "Very hospitable".

But not only soldiers and shipwrecked men speak their tombstones. Jorge Guillén himself, in love with Malaga and the sea, asked to be buried near the elements that inspired his late work, a wish that was granted (posthumously, obviously) when he was buried in the English Cemetery in the most massive ceremony that it is remembered to date in the enclave.

Already in 2012, the administration itself declared the place a cultural interest asset, and was also registered with the Association of Significant Cemeteries in Europe, an award that only confirms that, for travelers more avid for the exotic, the Cemetery English will be a cornerstone of the cultural offer that you can consume on your visit to our blessed land.